Description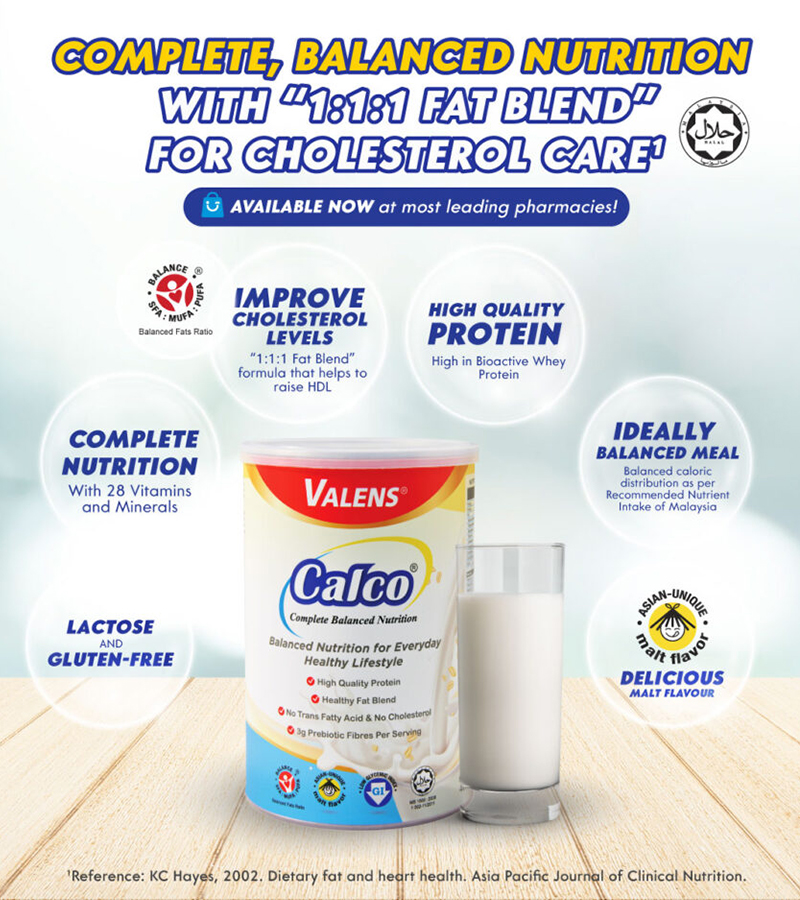 Complete Balanced Nutrition for Everyday Healthy Lifestyle
Valens Calco is a nutritionally complete and balanced oral nutrition supplement for extra nourishment that can be used as a supplement with or between meals or as a meal replacement.
Complete Nutrition for Everyday Diet
Contains all essential nutrients including 28 vitamins and minerals.
" 1:1:1 Fat Blend " for Cholesterol Care
Formulated with "1:1:1 Fat Blend" that helps to raise HDL(good cholesterol) and improve cholesterol levels*
*Reference: KC Hayes, 2002. Dietary fat and heart health. Asia Pacific Journal of Clinical Nutrition.
*Reference: Geoffrey al. JACN 2007 Vol 26, No.6 Emerging Health Properties of Whey Protein and their Clinical Implications
Ideally Balanced Nutrition
Balanced caloric distribution in accordance with MRNI (Recommended Nutrient Intake of Malaysia) where key nutrients Carbohydrates, Protein and Fats are well proportioned as an ideally balanced meal.
Free from Lactose* and Gluten
Suitable for those who are lactose and/or gluten intolerant.
Ingredients & Nutrition Panel
Maltodextrin, Vegetable Oils (Palm olein oil, Soybean oil, Canola oil, Medium-chain triglyceride oil), Whey Protein Concentrate, Inulin, Isolated soy protein, Minerals (Calcium Lactate, Dipotassium Phosphate, Potassium Citrate, Sodium Chloride, Tricalcium Phosphate, Magnesium Sulfate, Sodium Citrate, Ferric Pyrophosphate, Zinc Sulfate, Copper Sulfate, Sodium Selenite, Manganese Sulfate, Potassium lodide, Chromium Chloride, Sodium Molybdate),Vitamins (Choline Bitartrate, Sodium Ascorbate, Inositol, Vitamin E, Acetate, Niacinamide, Vitamin A Acetate, Pyridoxine Hydrochloride, D-Calcium Pantothenate, Cholecalciferol, D-Biotin, Riboflavin, Phytonadione, Thiamine Hydrochloride, Folic Acid, Cyanocobalamin), E95​5
*NOTE: Please avoid hot, boiling liquids to preserve heat-sensitive nutrients.
Providing Additional Protein Support For :
Pre & Post Operative
Trauma, Burn, Cancer
Stress & Surgery
Mineral & Electrolyte-Restricted Diets
Elderly On Long Term Care
Instantised Powder
Excellent Solubility
Mixes Readily With Most Formula, Food & Beverages
No Altering Taste
Low Fat & Carbohydrate
Low Mineral & Electrolyte
Gluten Free
Material Safety Data Sheet
Pharmacopoeias Compliance